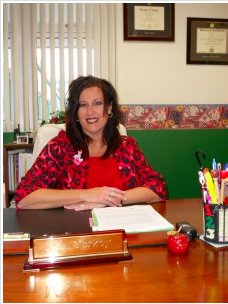 Principal
Lee-Anne Keith (formerly – Yerkey)
lyerkey@pasco.k12.fl.us
I am so honored to be the Principal of Schrader Elementary School. I am a 1993 graduate of Flagler College in St. Augustine. My major was Elementary Education with a specialty of working with Spanish Speaking Children. My minors were Spanish and Latin American Studies. I have been a Pasco County educator for many years. I began my career in 1993 as an Intermediate teacher at Northwest Elementary in Hudson. After many years of teaching, I went on to pursue my Master's degree in Educational Leadership. I became the Assistant Principal of Richey in 2005 and remained there until the Spring of 2009 when I was promoted to Principal of Sunray. After almost seven years of being the principal at Sunray, I am excited to now be the Principal of Schrader!
I am very fortunate to be able to work with such a great staff and have so many wonderful students and families that make up our Schrader community. I encourage you to be involved in your child's education. We offer many opportunities here at school whether it be as a volunteer, School Advisory Council Member, PTO, or simply attending events that take place throughout the year.
I am so proud to be a Schrader Raider and look forward to providing your child with a dynamic learning experience!!!! If I can be of any assistance, please stop by or give me a call!